Multipotentialities have an endless curiosity, they love diversity and have an ability to adapt and transition, in a fast-changing, volatile environment like today.
This is what a multipotentialite sounds like. In my previous article-"ARE YOU ONE NAME & SEVERAL TITLES? HOLA RENAISSANCE PERSON" you have a fine idea of who a multipotentialite is.
But do you think they are a lost cause? Another set of 'different' people trying to create a sense of normal for themselves?
The answer is no because they themselves are the new normal.
Why does the world need people with multiple specialities?
Well, it's the 21st century and every word you say should be backed by research? Yes?
Let see…
According to Fast Company
We are the Generation Flux and we are the new normal! It is because the world is changing so fast that putting all your eggs in one basket is as risky as learning a single skill or talent to feed on for the rest of your life.
The instability that shakes people from their bed, is one thing the multipotentialities can easily handle. That is because they thrive in new environments that foster creativity. And there are several other traits that make us more than suitable for what today is called a VUCA environment.
VUCA stands for Volatility, Uncertainty, Complexity and Ambiguity. The current state of the world is easily defined by these 4 terms that demand you to be on the run if you want to survive here.
But how is that connected to multipotentialities?
WHAT MAKES US IRRESISTIBLE?
Are you wondering why does the world need us?
For one, We ADAPT too easily, yes we are like water. We learn fast because we have the ability and the experience of diving into different fields and learning the 'Hows' and 'whys' quickly.
We are always learning and have an innate curiosity to know more and hence go a step ahead of what our role might demand.
We think out of the box because we have the exposure to do so.
We are the bridge builders between different fields, cultures because we have seen both sides of the coin and hence are more tolerant. We can combine fields and create new spaces that have a different take on the usual scheme of things.
We look at the world through a broader vision, since we have multiple interests and therefore knowledge that surpasses strict boundaries.
All we need are 3 things- a life of meaning, with variety and sustainable income!
This love for variety often makes us an ambassador of what Sarah Sarah Ellis and Helen Tupper a 'squiggly career'.
Remember the often-quoted 'ladder of success that defined your career path? It seems that the ladder has become more of a maze now.
This maze lets you tackle different opportunities one after the other. In roles that make you more productive and are in line with your abilities. The whole idea of this career path is to make you a productive, wholesome individual who is far more different than where he started. He learns quite a lot in the different roles he/she played and has turned out to be excellent in all fields.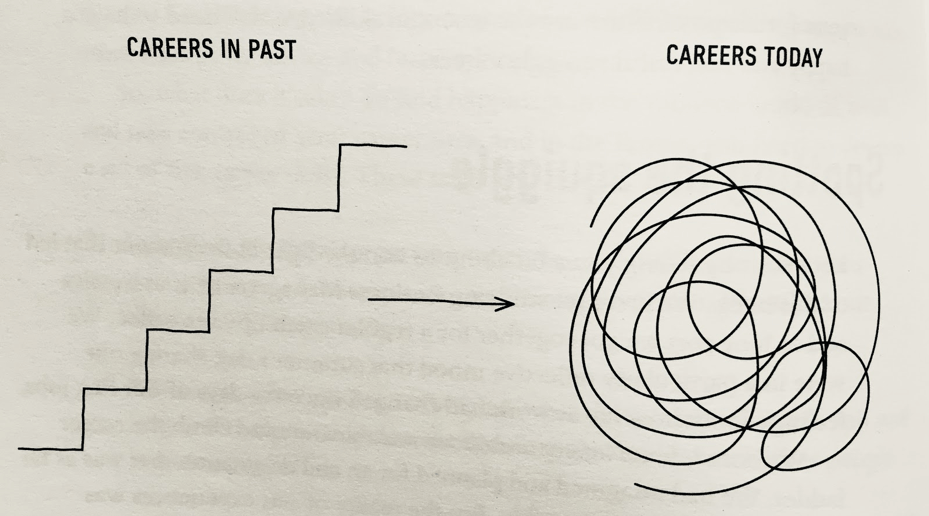 Life is never a straight line, nor are you defined by a single role or interest or job. The different abilities, passions, skills and hobbies we all have to make us a wholesome bunch.
Like a true traveller, we embrace the journey, not the destination!
Would love to have you back!
---
Would love to have you back